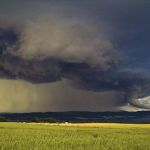 Learn About Weather
Explore all things weather - from storms to climate - with this course that looks at the basic processes behind the weather.
Description
Understand the weather
Ever wondered what the difference between a hurricane, cyclone and typhoon is? Or what a 'front' is? Or asked how weather warnings are issued? Maybe you've even spoken about the weather today. The weather is one of the most popular topics of conversation, yet not many of us actually know how it works.
On this course you'll explore all things weather, learning about the basic processes that result in the weather that we experience and how the weather affects people like photographers, gardeners and walkers.
This course is for anyone looking for an introduction to the weather, as well as those with a particular interest in how weather affects photographers, gardeners and walkers. You don't need any scientific knowledge or past experience.
You will need access to an internet browser. You will also be encouraged, with our guidance, to use simple online tools to aid, collate, publish and share your findings.
---
Pricing:
Free
Level:
Beginner
Duration:
3 hours/week
Educator:
Helen Roberts
Organization:
University of Exeter
Reviews
Would you recomment this course to a friend?
Discussion
Other courses you might like