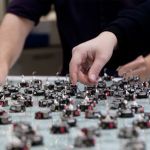 Building a Future with Robots
Explore the role of robots and autonomous systems in the factories, homes, hospitals, schools and cars of our near future.
Description
Explore the future of robotics in factories, homes, hospitals, schools and cars
On this course, we'll look at current and future developments in the field of robotics that could shape many different aspects of our daily lives.
We'll build up a picture of the principles and the fundamental challenges of robotic design, and demonstrate how research here at The University of Sheffield is working to overcome some of these challenges.
This course is open to anyone with an interest in robotics. It will be of particular interest to engineers, designers, technicians and enthusiasts who are keen to explore the role of robots in our economic and industrial future.
---
Pricing:
Free
Level:
Beginner
Duration:
3 hours/week
Educator:
Sandor Veres
Organization:
The University of Sheffield
Reviews
Would you recomment this course to a friend?
Discussion
Other courses you might like