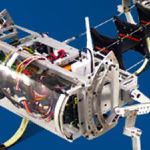 Robotics: Locomotion Engineering
Learn how to design, build, and program dynamical, legged robots that can operate in the real world.
Description
How do robots climb stairs, traverse shifting sand and navigate through hilly and rocky terrain?
This course, part of the Robotics MicroMasters program, will teach you how to think about complex mobility challenges that arise when robots are deployed in unstructured human and natural environments.
You will learn how to design and program the sequence of energetic interactions that must occur between sensors and mechanical actuators in order to ensure stable mobility. We will expose you to underlying and still actively developing concepts, while providing you with practical examples and projects.
---
Pricing:
Free
Level:
Advanced
Duration:
12 weeks, 8h-10h/week
Educator:
Dan Koditschek
Organization:
University of Pennsylvania
Reviews
Would you recomment this course to a friend?
Discussion
Other courses you might like